Ongoing WDHD Campaigns
World Digestive Health Day: WDHD 2020
---
In support of the 2020 campaign, World Digestive Health Day (WDHD) is pleased to provide tools and resources for use across the globe.
Available tools and resources:
You are invited to share your resources with us by contacting info@worldgastroenterology.org. Resources that you share may be linked to from this page.
---
Aims of the WDHD 2020 Campaign
WDHD 2020 Seeks to:
Raise awareness of the role of the gut microbiome in health and disease.
Provide gastroenterologists, their patients, and the lay public with an understanding of important findings from the latest basic and clinical research of the gut microbiome.
Develop educational and training materials on the key facts about the gut microbiome, in so doing, dispel myths and misinformation about the gut microbiome.
Stimulate international collaborations that foster improved education, research, and training on the role of the gut microbiome.
Update health care practitioners and the public on the role of the gut microbiome in diagnosis and how it can be modulated to treat disease and/or allay symptoms.
---
WGO Global Guidelines and Cascades
The following WGO Global Guidelines and Cascades are featured as useful resources for the WDHD 2020 campaign. The guidelines are globally applicable, and the cascades offer different options for diagnosis and treatment depending on the resources available.
Select a button below to view the respective Guideline and Cascade. The Guidelines are available in English, French, Mandarin, Portuguese, Russian, and Spanish.
The WGO Guidelines library contains 26 practice guidelines written from a viewpoint of global applicability.
---
e-WGN Expert Point of View Articles
Read Point of View articles on the microbiome from WGO experts published in e-WGN, WGO's official e-newsletter.
Gut Microbiota, Diet, and Antibiotics in IBD Pathogenesis; from a Developing Country Perspective
Tarkan Karakan, MD
Vol. 20, Issue #4 (January 2016)
Is Fecal Microbiota Transplantation Through the Mid-Gut a Rescue Therapy for Refractory IBD?
Faming Zhang, MD, PhD
Vol. 19, Issue #2 (July 2014)
Gut Microbes
Virginia Robles-Alonso, MD and Francisco Guarner, MD
Vol. 19, Issue #2 (July 2014)
The Human Gut Microbiota: a 2012 Perspective
Francisco Guarner, MD and Virginia Robles-Alonso, MD
Vol. 17, Issue #3 (October 2012)
---
Microbiota Hard Talks Series
The Microbiota Hard Talks series is aimed at providing medical education in the field of the human gut microbiota. These videos feature experts and like-minded colleagues from around the globe on state-of-the-art microbiota topics.
To view a video, follow the links below to create a free account. After accessing your account, select 'Previous Webinars' in the blue toolbar. Select the title of the respective webinar you desire to watch, highlighted in purple. After viewing a Microbiota Hard Talk, a Certificate of Participation may be downloaded directly from the player.
---
We are Living in a Microbial World - Music Video
Microbial World (Material Girl Parody) for World Microbiome Day, June 27th [Verse 1] Some foods feed me, some foods bloat me I think they're okay If they don...
---
World Microbiome Day
#DiversityMatters We believe that the diverse world of microbiomes deserves more recognition due to its effect on human, animal and environmental health! Join us in celebrating World Microbiome Day 2020 and communicating the diversity of microbes, microbiome habitats, diets to feed and fuel microbiomes and diversity among microbiome researchers LEARN MORE
---
American College of Gastroenterology (ACG) - WDHD 2020 Resources Blog
Read the American College of Gastroenterology blog post, "World Digestive Health Day 2020: Gut Microbiome: A Global Perspective." The post includes educational resources, articles, guidelines, and video and audio presentations for physicians and patients. Articles from the July 2019 special microbiome themed issue of The American Journal of Gastroenterology are open and accessible to all for the first week of June 2020. The College also providing access to recent AJG science reflecting the growing understanding of the role of the gut microbiota in GI and liver disease.
---
American Gastroenterology Association (AGA) - Center for Gut Microbiome Research & Education
Gut Microbiome
Latest Microbiome Research
AGA Center for Gut Microbiome Research & Education
The AGA Center for Gut Microbiome Research and Education is a virtual home for AGA activities, research, news and policy updates related to the gut microbiome, one of the most exciting and promising areas of science today.
Fecal Microbiota Transplantation National Registry
The AGA Fecal Microbiota Transplantation (FMT) National Registry assesses short- and long-term patient outcomes associated with FMT. This registry is a program of the AGA Institute and AGA Center for Gut Microbiome Research & Education.
---
United Europe Gastroenterology (UEG) - Infographics
Gut Microbiome Infographic
Click or tap on image for a larger version.
Gut Microbes, Our Mental and Physical Health Infographic
Click or tap on image for a larger version.
---
Show your creativity and color the microbiome, with our WDHD 2020 Coloring Sheet!
Click or tap on image to download
---
Ask a Librarian
Learn how the Ask a Librarian service can help you find information about the gut microbiome.
---
WDHD 2020 Logo
The WDHD logo is provided to help you promote your WDHD 2020 initiative. Download the logo that fits your campaign activities. Please note that the WDHD logos are for non-commercial use only.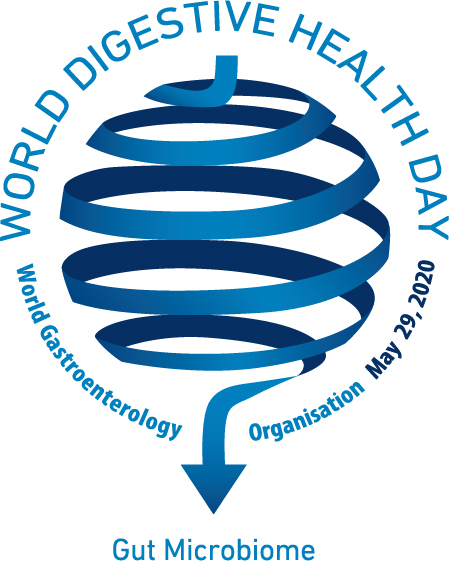 Download Color PNG | Download Color JPG | Download Color PDF


Download Color PNG | Download Color JPG | Download Color PDF
Social Media Graphics
Download Facebook 1200x630 PNG | Download Facebook 1920x1080 PNG | Download Facebook 820x312 PNG
Download Twitter 1500x500 PNG | Download Twitter 440x220 PNG
Download Instagram 1080x1080 PNG
---
Add to Calendar